Masking in Photoshop is a process to hide or reveal parts of an image selectively. It allows you to make detailed edits without permanently changing the original image. Masking in Photoshop differs depending on the image's appearance.
By the way, Whether you're a Pro or a new Photoshopper, you should know the different masking procedures to improve your photo editing skills.
This article discusses different masking methods and how to do it well in Adobe Photoshop.
While editing photographs using Photoshop masking is a crucial technique. You can cover up or reveal the areas of an image you want to change. One of the most useful features of masking is its ability. It isolates specific areas of an image for editing without impacting the pixels.
A mask can cut off just that region before the correction is made. Only the parts of the image you want to edit are affected. It allows you to achieve a high degree of precision in your modifications.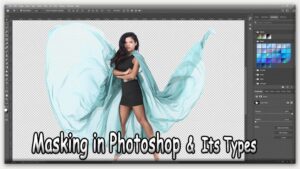 Several photos can be easily combined using masks. You can make a more seamless composite. You can hide specific areas of an image using a mask. Then blend the remaining areas. This method shines when you need to merge photos.
Photoshop masking using a background eraser tool is a powerful method. It can improve the precision and accuracy of your modifications. Masks are useful for various picture editing tasks. You can even do portrait retouching, image blending, and color correction.
Let's learn the types of masking in Photoshop.